ENGLISH SUMMARY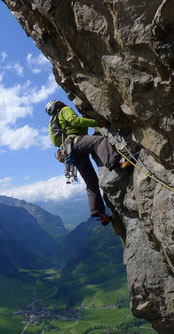 Scope
obsig.ch campaigns for self-responsible, close-to-nature mountaneering. The pictures and topos should inspire and provide a contribution to the discussion about how to proceed with the evanescent rest of the wilderness.
There is not one "right style" of how sportclimbs should be equiped. It is OK that very well protected, easy climbs exist. On the other hand the existence of challenging routes (both mentally and difficulty) is also important, whereas challenging does not necessarily mean dangerous.

Best practises
This chapter summarizes the best practises for multi-pitch sportclimbing first-ascents applied by obsig.ch.

No bolted A0. Bolts should be placed from climbing position or while fixed by removable means, for example cliffs. If the terrain is too hard, the line should be left to stronger climbers.

Alpine sportclimbs should be opened from the bottom.

Any modification of the natural rock surface like Cliff-holes or chopped holds are proscribed.

Take care of craftmanship. High-quality bolts and solid rock go well together. The hole for a bolt potentially survives several 1000 years. Therefore it is appropriate to think well about the exact position of each hole.

No bolts should be placed when solid possibilities for removable gear (camalots, nuts, bottlenecks etc.) are available.

An unfinished project should be released after 2-3 years without activity.

Guided tours & coaching
The offer for guided tours & coaching covers rock- and ice-climbing, avalanche courses, classical and ski mountaineering. It ranges from beginner's courses to demanding climbs. Also Paragliding passerger flights, potentially also in combination with mountaineering, are on offer. The pricing basically considers the official SBV Standard rates and is supposed to be trasparent and fair for all involved.
For more Information feel free to contact Peter.

Disclaimer
Mountaineering involves risks. No liability claims in conjunction with the information of this site will be accepted. For Details refer to terms and conditions (in German language)